LYDÉN DISTILLERY DRY GIN
500ml \ alc 40% \ Organic
The world's best London Dry Gin 2021 in the World Gin Awards
Our Dry Gin is produced in small batches with seven carefully selected organic botanicals, some of which are local sourced from our home county, Småland. We also use local water from Ljungby – a fantastic resource that we are very proud of.
Distilled with Juniper Berries, Lingon Berries, Coriander Seeds, Angelica Root, Elderflower, Lemon Peels and Rosemary.
The craftsmanship makes each batch and bottle unique. This is our interpretation of how a Swedish Gin should taste.
LYDÉN DISTILLERY PINK GIN 
500ml \ alc 40% \ Organic
Our Pink Gin is truly unique, delicious and gentle sweet. The taste from the fresh juicy pears, lemon thyme and lingon berries blend together really well with the classic gin botanicals. After the destillation we give the gin its pink color by adding hibiscus flowers. Perfect for a summer G&T or in your favorite cocktail.
It is available at a number of selected Systembolaget stores and can be ordered to all Systembolaget stores in Sweden.
*Please note this is an all-natural coloured gin and will fade with time and exposure to direct sunlight.
LYDÉN DISTILLERY NAVY GIN 
500ml \ alc 58% \ Organic
Our Navy Gin is made from the same botanicals as our Dry Gin. Despite its high alcohol content at 58% it is amazingly smooth and can be enjoyed just the way it is, although the main purpose is to provide extra boosts in cocktails. The taste is even clearer, more powerful and lifts the Gin to another level.
It is available at a number of selected Systembolaget stores and can be ordered to all Systembolaget stores in Sweden.
LYDÉN DISTILLERY CASK GIN
500ml \ alc 46% \ Organic
The world's first gin stored on Småland oak? – yes, you read that right!
Let us present our Cask Gin, which has been inspired by the forests of Småland. For some time we have allowed gin mature in only 5 pieces of 30-liter barrels, which are made of oaks from Småland.
The result – an incredibly smooth sipping gin, with a dominant taste from juniper and a well-balanced taste from oak, which contributes both color and sweetness.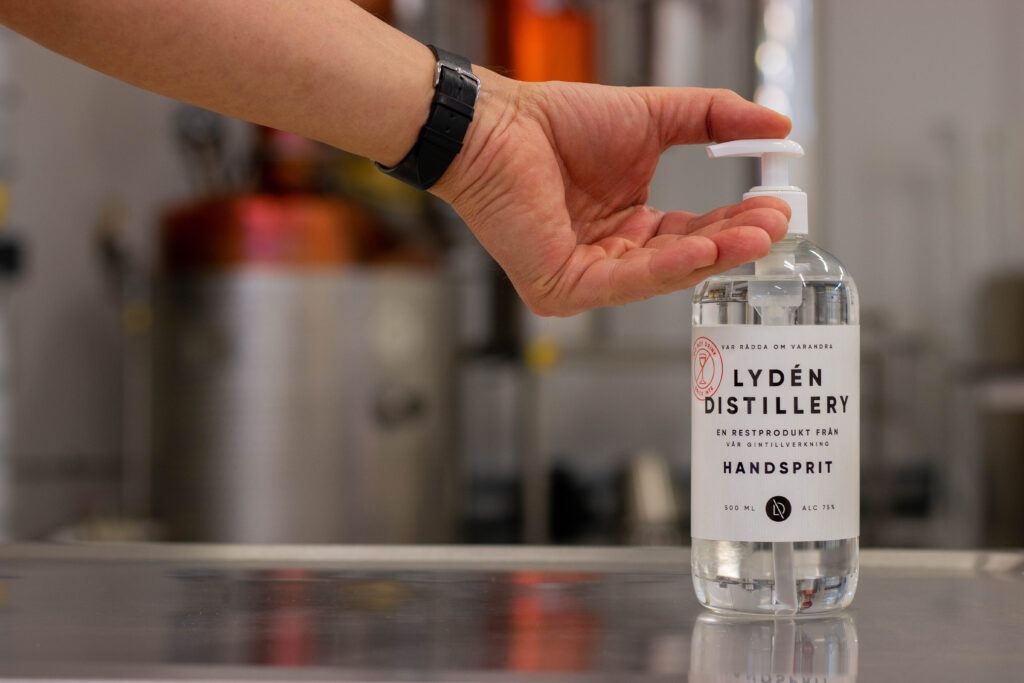 LYDÉN DISTILLERY HANDSPRIT
500ml \ alc 75% \ DO NOT DRINK!
When we make our gin, we use only the absolute finest that comes out of our copper still, better known as the Heart. What can we do with the rest, thats called Heads & Tails – which is not good enough to drink? In many cases you destroy it. In our case, we take advantage of everything and reuse it to make hand sanitizer
Take care of each other. 
LYDÉN DISTILLERY x PM & VÄNNER
500ml \ alc 40% \ Limited Edition
Early in the summer of 2020, Lydén Distillery, which is Småland's first and only gin distillery, together with PM & Vänner, started planning a gin based on their cornerstones of "forest, lake and meadow". With well-selected hand-picked botanicals from the local area, we have created a London Dry Gin with a taste of Småland's forests.
Lydén Distillery x PM & Vänner, which is flavored with heather & sorrel, is the first limited batch consisting of about 550 bottles. It is released under the name "Lydén Distillery Limited Edition Gin". What distinguishes this release from our other gin varieties that are out at Systembolaget today, is that we only make one batch with this particular recipe. Then it is never made again.
It sold out in just a few hours at Systembolaget. So if you didn't manage to get a bottle, it is available to try at PM & Vänner in Växjö.